Timisoara 2023
Hope for Europe
How can a Christian Community be significant in the world of today?
Presentación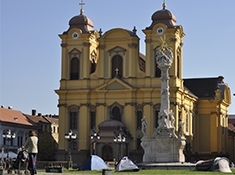 A meeting in the heart of Europe
Committed Christians meet every two years in a fraternal atmosphere, combining in harmony the joy of the meeting and the faith that supports us
Exchange
We attend the meeting of the host country's parishes and enrich each other with an exchange of the cultures and pastoral experiences.
Enrichment
Prof. FX Amherdt – Professor of Practical and Pastoral Theology in Friborg, Switzerland will offer his knowledge to the Colloquium and summarize the contents of the debates.
discovery
By learning from one another how parishes try to live and transmit the Gospel of Jesus Christ to the world of today.